Polar Bear - 38' Sportfish 
She is a clean & comfortable Charter Boat out of Scituate MA.... with Captain Stan and First Mate Rick bringing you fishing Inshore and Offshore for Bass, Blues, Shark, Tuna, Haddock and Cod.

We also charter for:

Memorial Services, Whale Watching, Bachelor Parties, Lighthouse Cruises and Sunset Cruises.


"Great day striper fishing!!! Captain Stan was on fish early and often. Very knowledgeable and accommodating. Comfortable boat.
I was sooo tired from reeling in those HOGS! Definitely will go again soon!!!! PolarBear!!!"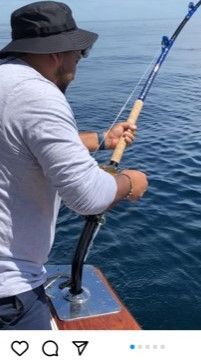 "Great charter today on the Polar Bear!  Amazing sunrise, super fun charter guests, flat calm seas and a nice Tuna release! "
"

We booked a charter for a full day of offshore ground fishing and shark fishing. We brought in the limit for haddock and the sharks were huge. Thank you Captain Stan and Mate Rick! The six of us went home with plenty of fish and some fun stories."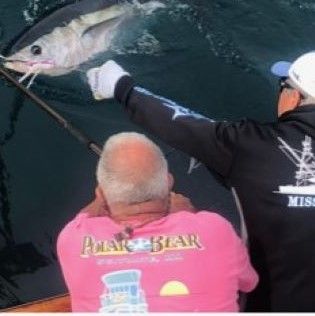 "Savage troll bite today on the Polar Bear!  Landed 5 out of 7 bluefin tuna by 9am!!  Like the old days.  Big Thank you to Captain Stan!!"
"Fishing on polar bear great time. Stanley knows where the action is. 2 giant tuna on a day trip. Clean boat great gear and knowledgeable captan and crew. Highly recommended"
"

While on vacation in Scituate, booked a trip for bass and blues and then a whale watch for my family. I had no idea what to expect. We got a fantastic day of fishing with lots of big bass and a spectacular whale show. I would recommend Polar Bear Charters for a great day on the water."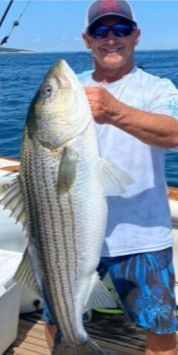 "Got to share the cockpit with Captain Stan Glaskin and the legendary bassmaster - Bob King.  We caught 13 big sellable bass and released 15 32"-35" fish.  Great day all around with sore arms for everyone tonight.  Thanks Stan!!"
"

First time tuna fishing, went with some guys from work. We started trolling around 6:30 in the morning and had nonstop action for three hours. Picked away at a few more as the day went on. Overall, a great time with a great crew. Looking forward to another trip next year."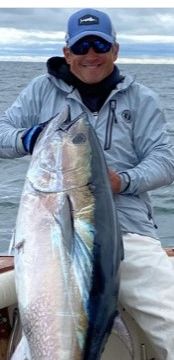 "Fun day with Polar Bear Charters!  A nice tuna for the table along with a limit of striped bass and a few bluefish.  Weather turned out beautiful late in the day!!"
Research and Book your fishing charter today - direct with Captain Stan!